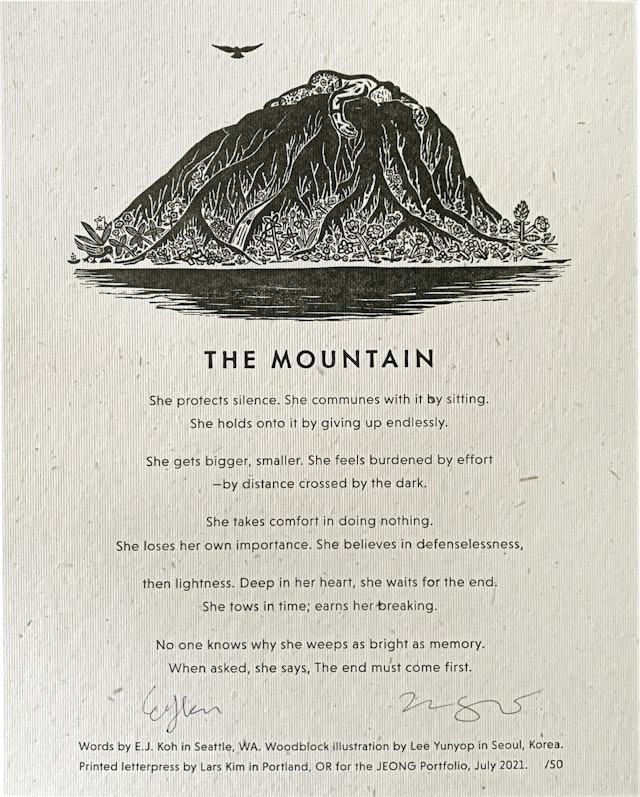 The Mountain
8 x 10" letterpress print on Gmund Bio Cycle 300gsm cover in Stroh
"I was deeply taken by the sadness and self-sacrifice in E.J.'s interpretation of jeong. Her words pair so well with Lee Yunyop's woodcut of an elderly figure hugging a mountain, conjuring the fecund myths of Seolmundae Halmang, grandmother goddess of Jeju island.
"I printed this broadside in black ink on a Vandercook Universal III at Neuhaus Press in Portland. The 100% recycled paper is Gmund Bio Cycle 300 gsm cover in Stroh and contains flecks of unprocessed straw. Letterpress printing, like jeong, is a labor of love: it requires one to slow down, focus and develop a gradual rhythm through the repetition of many steps. The results are slightly imperfect and yet beautiful to behold."
Lars Kim is a designer and letterpress printer living in Portland. After completing studies at Bryn Mawr College and the University of Copenhagen, she worked in architecture and new media before stumbling upon a Heidelberg Windmill in 2006. Since then, she has deepened her passion for East Asian typography and sacred arts along the Silk Road as an independent researcher and educator.
Lars teaches design at the San Francisco Center for the Book, where she produced an artist's book on Korean symbols of longevity (Shipjangsaeng) for the Small Plates Imprint program in 2017; this book includes medium weight hanji from Jangjibang. While managing at Logos Graphics in San Francisco for 13 years, she discovered the tactile beauty of letterpress and dove into the technical aspects of print, hand papermaking and bookbinding. She currently works on a range of commercial and private graphic/web design projects through her freelance practice, Solsken Design.
E.J. Koh is the author of the memoir The Magical Language of Others (Tin House Books, 2020), winner of the Pacific Northwest Book Award and Longlist for the PEN Open Book Award, and the poetry collection A Lesser Love (Louisiana State University Press, 2017), winner of the Pleiades Press Editors Prize for Poetry. Her co-translation of Yi Won's The World's Lightest Motorcycle is forthcoming from Zephyr Press. Her poems, translations, and stories have appeared in Boston Review, Los Angeles Review of Books, Slate, and World Literature Today. Koh is the recipient of fellowships from the American Literary Translators Association, Kundiman, and MacDowell. Koh earned her M.F.A. at Columbia University in New York for Creative Writing and Literary Translation. She is a PhD candidate at the University of Washington in Seattle for English Language and Literature on Korean and Korean American literature, history, and film.