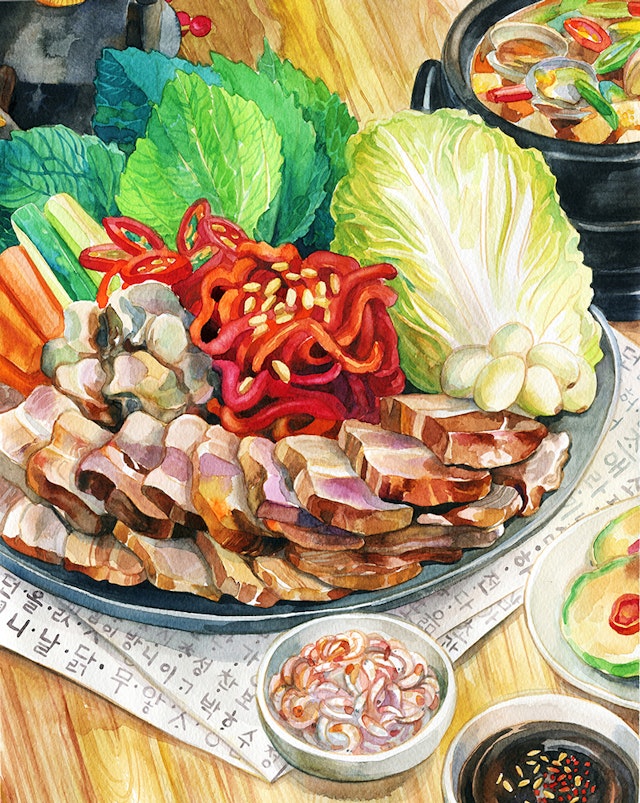 Bossam (보쌈)
8 x 10" giclee print, watercolor on paper
"Sharing food is the most natural way that Koreans express Jeong (정) and one of the quintessential Korean dishes that is meant to be shared with a big group is Bossam (보쌈). What I love about Bossam is that no matter how formal or casual the occasion is, you have to let go of all the pretense and give in to the pleasure of eating to enjoy this dish. Bare hands and a wide-open mouth are required, and the flavor is not for the faint of hearts either. I'd like to think that this is how Koreans like to live their lives—packed with vigor and flavor."
Robin Ha (she/her) is a Korean American cartoonist based in Washington DC. She is the author and the illustrator of Almost American Girl, a 2021 Walter Award honoree memoir, and Cook Korean!: A Comic Book With Recipes, a New York Times bestselling cookbook graphic novel. Robin grew up in Seoul, South Korea, and moved to the United States at age 14. After graduating from the Rhode Island School of Design, she moved to New York City and worked in the fashion industry for several years before diving into comics. Her work has been published in independent comics anthologies as well as in the pages of Marvel Comics and Heavy Metal Magazine.
Robin has been an avid reader of comics since she was introduced to them by her mother as a young girl. She strives to make comics that entertain and also empower readers to become more accepting of themselves and others. Robin is currently working on her third graphic novel inspired by the Korean folklore of Gumiho.